Decent wireless internet coverage is a must now that almost all smart devices require 24/7 internet access. But how do you get internet to those remote places that your WIFI router just doesn't seem to be able to reach? One option is a more powerful router. Sometimes a more expensive device will have higher power transmitters, but the FCC limits it to a point so this doesn't always help. Another option is to simply use internet connection sharing on your cellular enabled phone or tablet, but some carriers charge for this extra service and realistically this isn't a very good option if we're talking about streaming to a TV. A third option is to add a Wireless Access Point.
Think of WIFI as an invisible bubble around the antennas of your router. The edge of the bubble is where your phone will disconnect from WIFI and no longer be able to "talk" to the internet because it's out of range. An access point adds another bubble and when they are well placed, can really improve the coverage in a home or office.
Let's say your router is on one end of your home, but the other end doesn't receive WIFI signal very well. It may be possible to run a line and hook up another transmitter. Here's an illustration of this concept.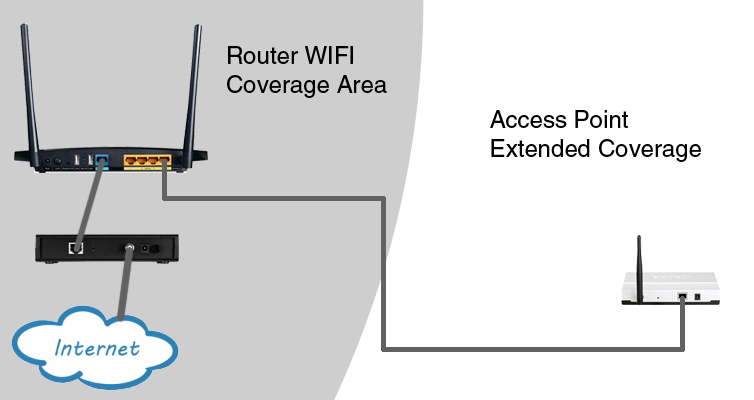 Why an access point and not another router? A router has firewall capability and essentially controls the way all your devices talk to each other while connected to the router's network. An access point only creates a wireless connection into that network. If you were to set up another router, it would create it's own network, separate of the original network, which is where things would get complicated. An access point doesn't create a separate network, it just connects your devices into the router's existing network.
This is the basis for providing coverage in large homes, office buildings, schools, warehouses, and more. We simply connect up more and more access point devices and spread them around the area that needs WIFI. Yes, there are some additional things to consider to avoid interference between devices, but we take care of that for you. We will typically do an assessment to determine the best way to connect the two or more WIFI boxes. In many cases, we run an ethernet line and once it's installed and configured, you have seamless coverage as you move about – with no need to switch between multiple wireless networks! Your laptop, phone or tablet will automatically connect to whichever transmitter is closest to you. If we can't run lines, we may even be able to beam wireless to another area with special range extenders or directional antennas designed to focus the radio waves in a particular direction.
When you need expanded WIFI coverage and you want everyone to share access to the same network, consider adding additional access points to your network.