Microsoft Security Phone Calls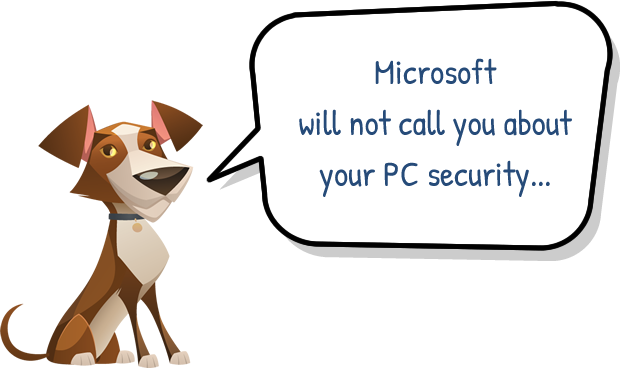 Many of our customers are calling us because of phone calls from people claiming to be with "Windows" or "Microsoft". These are the latest in a series of scams which lead you to purchase a fake security protection software, and purchase again, and again, and again…
Here's how the phone scam works. You will get a random phone call from someone and they introduce themselves as part of a Windows Security Team. They have identified your computer as a system with problems and Microsoft is reaching out to help customers clear it up.
The issue here, is that there might be nothing wrong with your computer. Second, Microsoft does not call consumers, they just don't. The instant you let the fake technician connect, that person remotely installs a virus onto your computer which disables or corrupts all of your real protection and it will be used again later. The conversation continues:
So you let the technician into your computer. A virus is installed in the background and goes dormant – yes, inactive. The technician pretends to look around your computer and says something like, "Yup, uh huh. You're infected all right." They proceed to convince you to purchase their fake security software, usually around $200. They monkey around a bit more, and say you're all set and hang up the phone.
That dormant virus is still on your PC. After a week or two, the virus wakes itself up and you receive a notice on your screen that your computer is infected. Keep in mind, your original, real security software has been disabled and is not currently protecting you. The fake software states that you need to call an 800 number to get the issue resolved. Another fake technician will remote back into your computer, pretend to look around, and tell you that the basic security software that you purchased from them was insufficient and you need to spend more money, typically $200 to $400 more. By this time, most people figure out they've been fooled and don't spend the money.
Now you have a couple real problems. Since it has been some time since you made the original purchase, your credit card company may not be able to retrieve your money – you still should call them anyway – as soon as possible, and notify them that you were scammed and see what they can do for you. The sooner the better. Yes, call them now. The phone number is on the back side of your credit card.
Next, having let the hackers into your computer, it has been legitimately compromised. Now is the critical time for you to bring your computer in to a trusted technology company for a real security assessment and repair. The initial infection has now opened up your computer to future attacks and needs to be dealt with so you don't have ongoing trouble.
If this has happened to you, first, it's okay. We can help. We encourage you to take your computer to a local repair shop and have the damage assessed, fixed, and legitimate security software installed such as Webroot, Norton, Trend Micro, Kaspersky, or BitDefender. In addition, we recommending protecting yourself from malware and unwanted advertising ploys with the real time protection of Malwarebytes Professional.
Depending on the extent of the damage and for optimum security, it may be best to back up your data and re-load the system. If you're not sure what to do next, please feel free to contact our experts for a consultation or to schedule a repair.