Does your child love technology? Are you looking for a great family experience or a unique birthday or Christmas gift?
Tech Lab has created an experience for kids to build their own PC with an expert. In this hands-on experience, your child will work with a Tech Lab technician to build their own computer. 
Children will learn about the parts of a computer, how they go together, and how the computer works. Children will then take the computer home. If preferred, the tech expert can help set it up at home.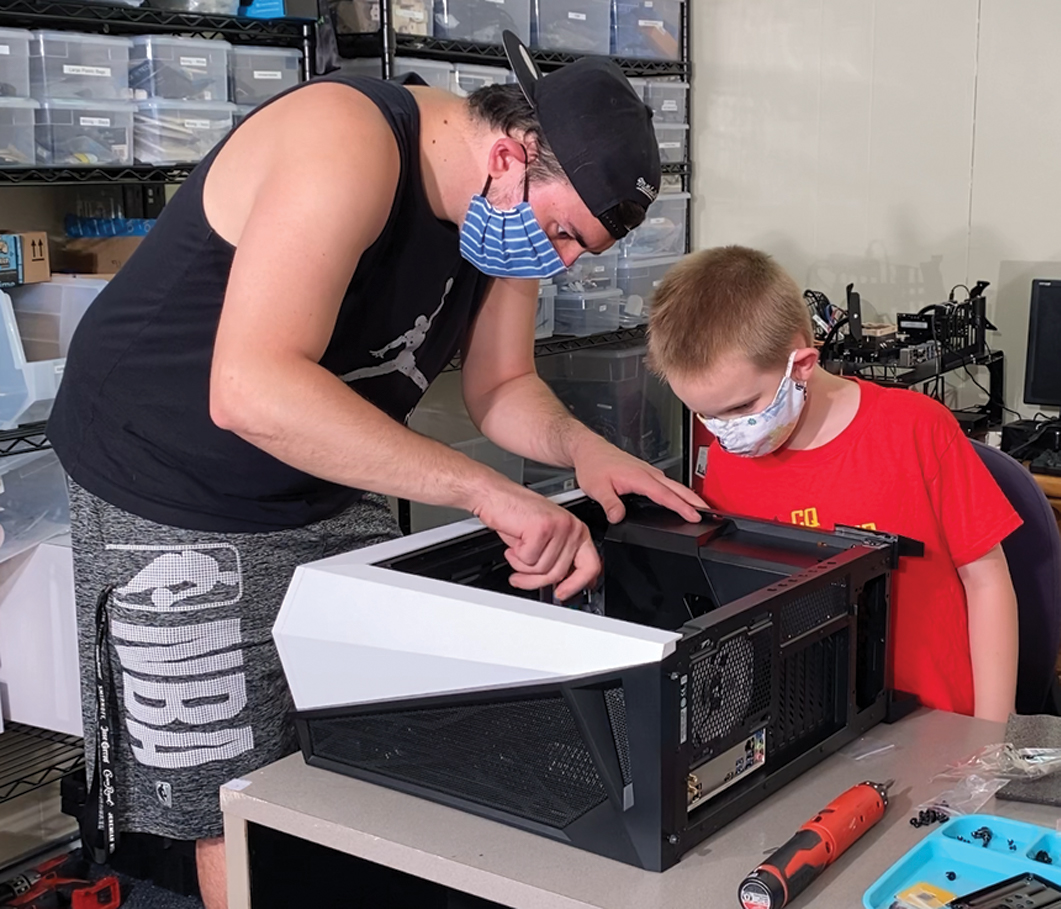 You can choose to build a basic, performance, or gaming PC.
Basic: the budget option, a solid computer
Performance: a workhorse computer great for everyday use, faster than the Basic
Gamer's Edge: a high-powered computer for gaming or graphics editing, faster than commercially available
Tech Lab will purchase the parts. Your child will build it with the help of a tech expert. 
Optionally, the tech expert can visit your home and help your child set up your new computer with programs and your peripherals. If you opt out of the in home setup, you can choose to add it at a later date.
FAQs
How old can someone be to do the build?
Children must be eight or older in order to participate. No one is too old to participate. 
Do I as the parent need to be there the whole time?
If someone under the age of eighteen is participating, then yes a parent or guardian must be present. This is a family experience. Multiple family members can come. 
How long will the build take?
About four hours is needed to build the computer in our office. Breaks will occur during this timeframe. You will then have a computer and Windows installed. Personalized setup of the computer at your home with an expert can take an additional three hours.
We are currently scheduling the computer builds on weekends.
Does my child need to bring anything? 
Just themselves. Everything necessary is provided. Computer building requires specialized parts and tools, and Tech Lab supplies those. Everyone needs to come ready to learn and participate!
Any special dress?
Your child can wear whatever they want. Building a computer does not create any mess. 
How much does it cost?
The computer build itself ranges in price depending on the computer you choose ($1370 – $3427). The (optional) cost to have it set up at your house with the help of a tech expert is $500. This can be done on a different day from the build or same day.
What's included in the price of purchase? 
The computer you choose is included and a license for Windows. The build experience is included. Additionally, a monitor, keyboard, mouse, speakers, and webcam are included. 
Anything else I should know?
All participants will need to sign a model release form. You can view this form here.
Purchase of computer and experience is made at the time you schedule your appointment. This is non-refundable. After your purchase, you will receive an e-mail confirmation. If something happens on the day you schedule and you need to change your date, please let us know and we will work with you to reschedule.
If you have any additional questions or need help deciding which computer works best for you, please contact our office at 414-208-4682 or contact@techlabhq.com. We are happy to answer whatever questions you have.