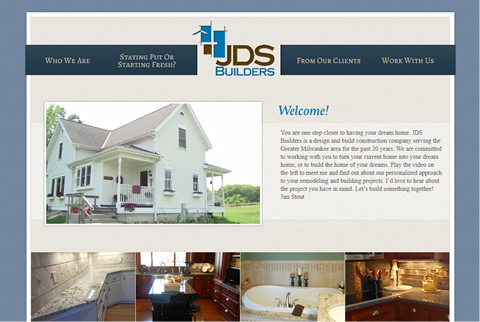 JDS Builders
We met Jim Stout through a local networking group. The site is built in Wordpress and the template incorporates original artwork. The website features a video introduction on the home page and the website primarily highlights the work of JDS Builders.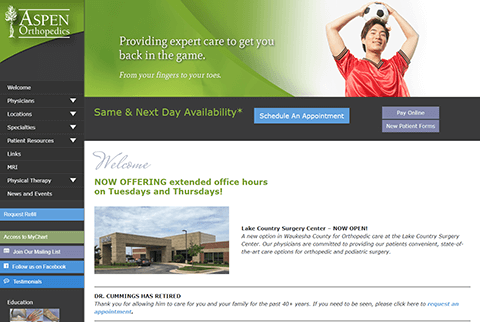 Aspen Orthopedics
This website is a hybrid of Wordpress and custom software development. Wordpress and available plugins at the time did not offer all the features that the customer needed, so a hybrid solution was the best approach. We worked with Aspen's designer to come up with a look that matched their existing brand.
The site utilzes SSL to encrypt and protect patient privacy information that is submitted through the website and also secures the online payment system and the admin area of the website. It features a testimonial system where admins can review submissions before displaying them on the site. There is an E-Newsletter registration system which doubles to record information collected from Trade Shows that the company attends, the system is programmed to produce two separate reports to distinguish the information collected. This all resides inside an admin area where Aspen can also monitor payment activity, review submissions for medication refills and visitor submitted appointment requests, the system also tracks whether or not requests have been addressed by employees in the company.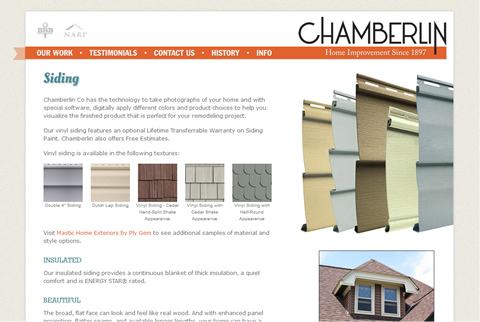 Chamberlin Co.
This is a refresh of their previous website. We designed a completely original layout and traced an old photo of the Chamberlin Man to produce the character on the homepage of the website. We worked with Tim and Denise to write the content for the website by collecting information from various sources including talking with Tim and Denise about what to say on the website, existing company materials, and existing brochures provided by Chamberlin's vendors.
There is a small custom admin area specifically built to make managment of the "Our Work" area of the website easier. It is pre-programmed to auto-size all the photos for the correct display on the website and has fields in the form for the descriptions on each project. We can also re-order or delete entries through that interface. The majority of the website is HTML, CSS, Javascript, and PHP.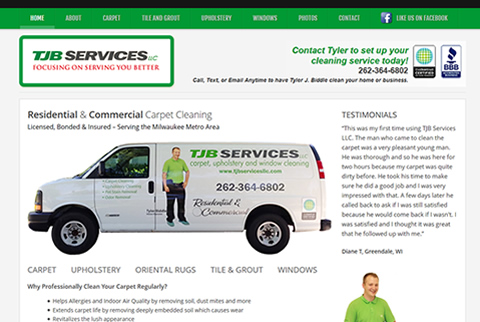 TJB Services
TJB Services was already using a free template when we took over managing their website. Since the code in the template was badly written, the site didn't validate and was hurting their SEO, we decided to re-build the template from scratch so it would meet web standards and operate correctly. Then we cleaned up the look of the site while keeping the same color scheme from the original template, but modified the design to have a much cleaner, more professional feel for visitors.
The website highlights before and after photos of Tyler's work and automatically collects testimonials from customers who choose to provide feedback so Tyler can have them displayed on the website.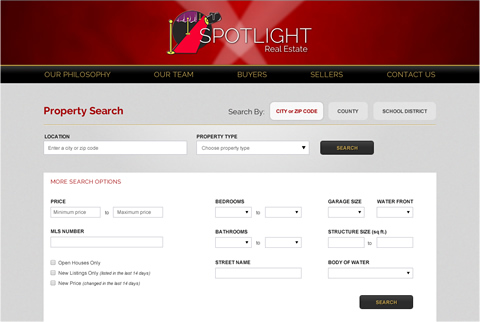 Spotlight Real Estate
We've worked with the three ladies from Spotlight Real Estate for a while and when they decided to incorporate their own real estate company, we were excited when they asked us to build their website. The logo was provided by Sharon's son and we incorporated it into a clean and refined look to attract potential buyers or sellers.
MLS data is also downloaded by the website on a schedule and visitors can search through all the various property listings available anywhere in the entire state of Wisconsin. The website also runs Wordpress so Spotlight can login and update the Home, About, Buyer and Seller pages themselves.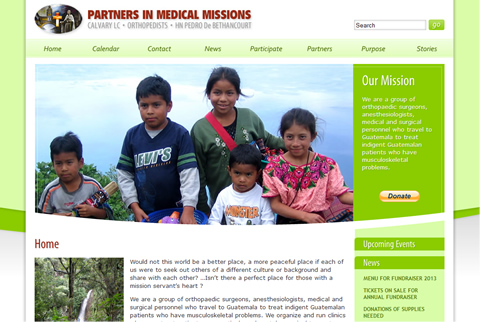 Partners In Medical Missions
Partners In Medical Missions is a non-profit organization that travels to Guatemala to treat indigent Guatemalan patients who have musculoskeletal problems. When they asked us to build them a website to feature their activities we were thrilled to be able to support a great group and a great cause. They have helped so many people and it was time to tell the world about their fantastic work.
With freedom to design what we felt was best, we decided to look through the many photos that they bring back from every trip and decided we wanted the front page to feature the smiling and proud faces of all the people involved. So many individuals have re-gained their livelyhood because of this volunteer effort. Best of luck on future missions!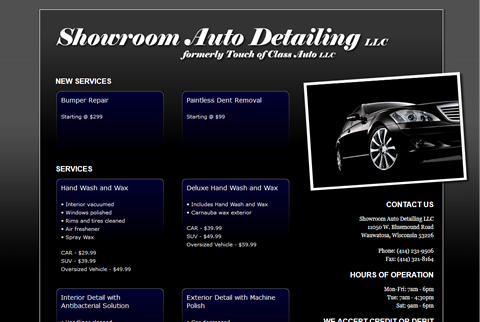 Showroom Auto Detail
Lenny is a great guy and very down to earth to work with. He details everything from your day-to-day work vehicles to high end Mercedes, Porche, even Motorcycles. This site was to establish a presence on the web and enable customers the ability to connect with their company by displaying the services they offer and provide contact information for visitors.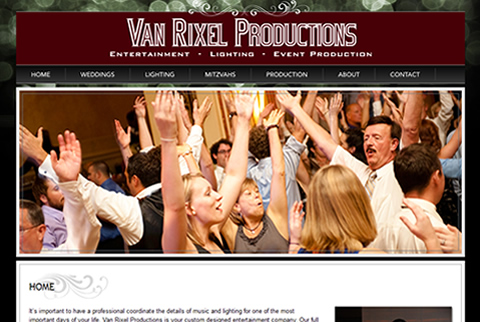 Van Rixel Productions
David not only runs a special event company, he's also a Magician! We helped David establish a web presence and also produced matching print materials for his advertising campaigns. The website highlights photos of some of the fabulous decor you experience when you hire him to stage your celebration. He has the ability to manage the website through Wordpress and he will also occasionally request updates or modifications by us.